Architects are looking at more innovative ways to build homes and schools in areas where sea levels are rising and threatening to displace many people who live close the water.
NLÉ, a architectural firm who's mission is "to shape the physical, human, cultural, and economic architectures of developing cities", have worked on building a 'floating school' in Lagos, Nigeria. Construction started in November 2012, with the plan to develop a 10 meter high pyramid building with 3 floors that could fit 200 students. The building's buoyancy comes from 16 empty plastic barrels at the bottom of the structure (see diagram below). No timeline for the completion of the school has been announced, but the firm held a completion preview event on March 2, 2013. More detail about the project can be found in a document they released here.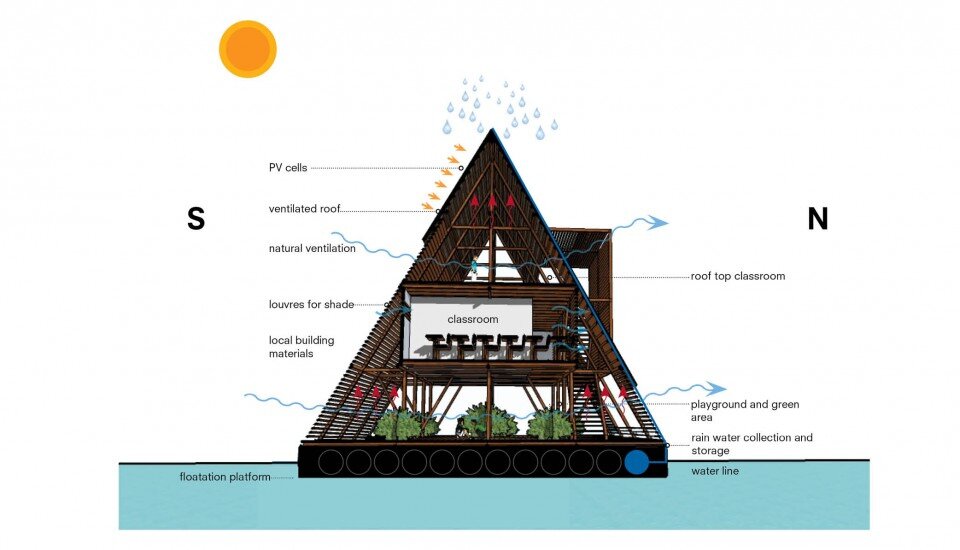 Another architect who's been a strong advocate for the construction of floating structures is Koen Olthuis, the founder of Waterstudio based in the Netherlands. His vision is to make dynamic urban structures more ubiquitous in the near future, given that 70% of the world's population will be living in the urban areas by 2050. A list of projects they've worked on can be found here. Also make sure to check out the 13 minute Ted Talk Koen gave in Warwick below.
If you enjoyed this post, subscribe to our newsletter above (we don't spam, promise) to receive a weekly message on this week's top news.