The International Telecommunication Union, a special agency under the United Nations released their annual report on ICT. "I am pleased to present the latest ICT Facts and Figures which show continued and almost universal growth in ICT uptake. Every day we are moving closer to having almost as many mobile- cellular subscriptions as people on earth" writes Brahima Sanou, , Director of the ITU Telecommunication Development Bureau
2.7 billion people are using the internet, which represents 39% of the world's population. Developing countries are still lagging behind developed countries with internet usage at 31% compared to 77%. Even worse, only 16% of the population in Africa uses the internet.
In terms of household internet penetration, global levels are at 41%, with Europe at 77% and Africa at 7%. However, growth from 2009 to 2013 was fastest in Africa at 27% annually. As we mentioned previously, one of the challenges ahead isn't only access to the internet, but its quality. Many countries in both Asia and Europe offer the highest percentage of high-speed internet at 10 Mbit/s, while in Africa, less than 10% of internet subscriptions are at speeds of at least 2 Mbit/s (see graph below for more detail).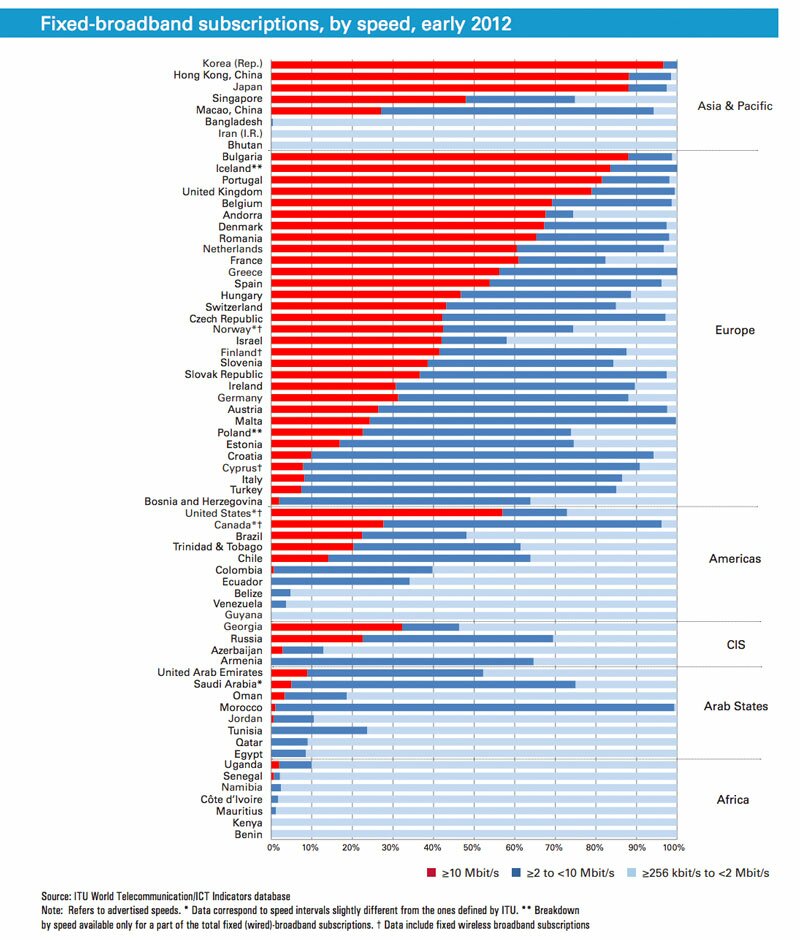 Mobile penetration has peaked, reaching 128% in developed countries and 89% in developed countries in 2013. The number of mobile subscribers has grown from 268 million in 2007 to 2.1 billion in 2013. Mobile-broadband are most expensive (proportionally) in Africa, representing an average of 50% of gross national income (GNI) per capita for a typical 1GB data plan.
For more information, read the ITU report here.
Like this post? Connect with us on Facebook and Twitter.